NO MORE FOOLIN' AROUND
MyAccount Online and MyAccount Mobile is now live! Click the button below to enroll now.
Tag your transactions for easier searching by filters – 'groceries', 'entertainment', or if you're daring, 'unnecessary amazon purchases'
Add notes and even upload images to your transactions for reference. Remind your future self "oh yeah, I did get that last round of drinks!" or "man, I really love those new shoes I got."
Set alerts for each account, either based on balances or by transactions. Stay in the know, even while you're on the go.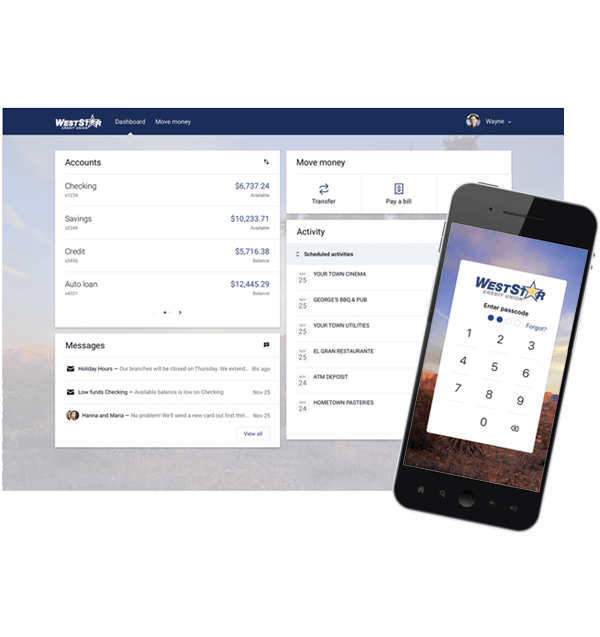 YOU DESERVE BETTER
You'll have greater protection and more control with added security features. Manage your devices, your access, passwords, and authentication – all from MyAccount Mobile!
Manage Cards – Report your card permanently Lost or Stolen, have a new card re-ordered, or just turn your debit card on or off to better protect your account. Can't find your card? Left it at the restaurant? Or just want to keep from spending more? Turn it off. Even smarter, keep it off and only turn it on when you're ready to use it! Now that's using your noggin!
In order to make this process as seamless as possible for users, there are some functions that we have to remove in advance.
Check the drop downs at the bottom of the page for a quick breakdown so you're in the loop!
Touch ID / PIN authentication – easily and securely log in to MyAccount Mobile using fingerprint or a PIN.
User Name / Password recovery – this option allows you to recover your account by entering a code sent via SMS.
Branch and ATM locations – find the nearest ATM or locate a branch using your current location.
Available balance vs. Current balance: keep track of your available balance – you know, the difference because of transactions that are approved, but just haven't posted yet. Available tells you exactly what you have.
More complete Bill Pay access via mobile – add payees, manage and view bill payments, and you can even edit or end recurring payments.
Download the new My Account Mobile App!
Enroll via MyAccount Online or MyAccount Mobile!
Enrollment will be simple, quick, and intuitive
Create your user name and password, and set up your security authentication.
Your Bill Pay payees and scheduled payments will be added to your new profile already. Just login and you're good to go!