FLEXREWARDS PLATINUM
New FLEXRewards Platinum Credit Cardholders get 0%APR* on purchases made for the first 6 months1!
Then, enjoy 1% cash back and a super low rate after that.
REWARDS WITH FLEXIBILITY
It feels good to reward yourself just by using your new PLATINUM FLEXRewards credit card. A low interest rate credit card for your everyday spending, plus cash and travel rewards! You'll love the flexibility that comes with the FlexRewards Platinum Mastercard Credit Card. WestStar Credit Union is Where You Matter, and we've hand selected these rewards that we know will actually matter to you.
Cash Back Credit - Redeem your Reward Points to get a 1% cash back credit directly applied to your card balance!
Travel Options - Choose from air, hotel, car rental, or cruise options with your Reward Points!
Charity Choice - Choose from hundreds of major charities to give back to using your Reward Points.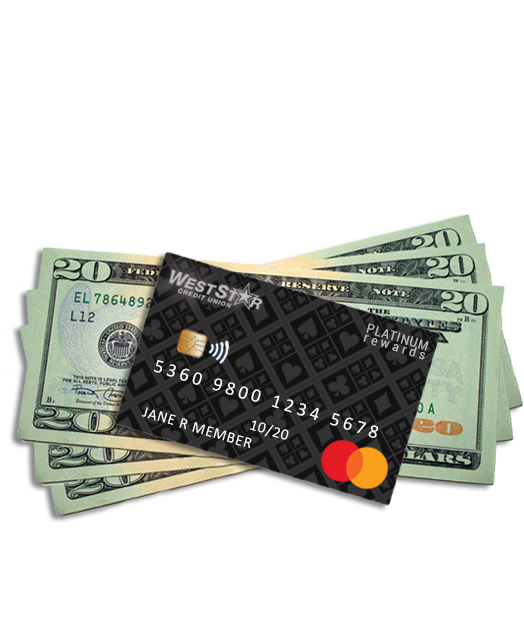 REWARD EARNING & REDEMPTION
Simply use your FlexRewards Platinum card for your everyday spending, and you'll earn 1 point per net $1 spent.
Access your FLEXRewards portal when logged into your My Credit Card profile.
You'll also have access to popular ShopSPOT merchants via your FlexRewards portal. With ShopSPOT, you can earn extra bonus points by shopping with participating merchants!
No Annual Fee
Variable rates as low as 8.49%APR* on purchases and cash advances
New cardholders get 0%APR on purchases for 6 months!1
No balance transfer fees!
No penalty pricing!
1,000 Bonus Reward Points when you open the card!
1,500 Bonus Reward Points when you make your first purchase with the card!
1. The introductory rate of 0.00% APR is valid for purchases made on new FlexRewards Platinum Credit Card accounts through their sixth (6th) statement cycle following the credit account opening. At that time, any remaining balance on purchases made during the introductory period, and any purchases made after the introductory period, will receive the APR in effect at that time. Introductory rate does not apply to cash or balance transfers. To qualify, you must be a cardholder currently in good standing - you must have demonstrated responsible use of your card and must not have had delinquent payments within a specified period. If at any time during the introductory period, a minimum payment is late or not received, your rate on any and all transactions will revert to the rate that was determined when you opened your account, based on your credit worthiness, and varies with the market based on the Prime Rate. New applicants are subject to terms, conditions and credit approval. You must be at least 18 years of age to apply and show ability to pay, or apply with a co-signer who is at least 21 years of age and can show ability to pay. Rates, fees and terms are subject to change at any time.
Enjoy the rewards and the flexibility you deserve.