FLEXREWARDS PLATINUM STARTING AT 9.99%APR*
You really can have it all. A low interest rate credit card for your everyday spending, and cash and travel rewards! Or, you can donate your rewards to the charity of your choice! You'll love the flexibility that comes with the FlexRewards Platinum Mastercard Credit Card.
REWARDS WITH FLEXIBILITY
It feels good to reward yourself just by using your new PLATINUM FLEXRewards credit card. WestStar Credit Union is Where You Matter, and we've hand selected these rewards that we know will actually matter to you.
Cash Back Credit - Redeem your Reward Points to get a 1% cash back credit directly applied to your card balance! Now we're speaking your language.
Travel Options - Choose from air, hotel, car rental, or cruise options with your Reward Points! Get outta town!
Charity Choice - Choose from hundreds of major charities to give back to using your Reward Points. Feels good, doesn't it?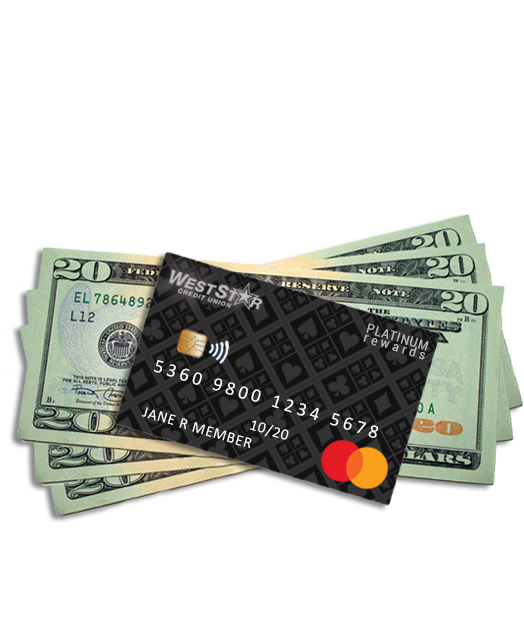 REWARD EARNING & REDEMPTION
Simply use your FlexRewards Platinum card for your everyday spending, and you'll earn 1 point per net $1 spent.
Access your FLEXRewards portal when logged into your My Credit Card profile. Or, go directly to www.gochoicerewards.com/WestStar to track and redeem your Rewards for any of the options listed above.
You'll also have access to popular ShopSPOT merchants via your FlexRewards portal. With ShopSPOT, you can earn extra bonus points by shopping with participating merchants!
No Annual Fee
Variable rates as low as 9.99%APR* on purchases and cash advances
No balance transfer fees!
No penalty pricing!
1,000 Bonus Reward Points when you open the card!
1,500 Bonus Reward Points when you make your first purchase with the card!
Some online merchants use Mastercard® SecureCode™ as part of the checkout process. If you haven't set up your private SecureCode yet, you can register your WCU Debit Mastercard or Mastercard Credit Card here now, and be ready when online merchants ask for it.
*Annual Percentage Rate. Rates are accurate as of effective date. Currently FlexRewards Platinum Mastercard variable APRs are between 9.99% and 18.00%, depending on your credit history and other factors. Rates may change periodically based on the Prime Rate.
View WCU Mastercard® Credit Card Rates, Fees and Cost Information (PDF)
Enjoy the rewards and the flexibility you deserve.
Apply Now